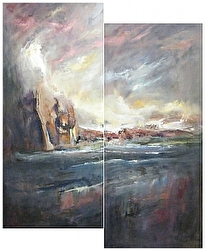 This painting is going to be in the August issue of American Art Collector magazine! In fact, there will be a feature page in the magazine on my paintings. I am so excited to be represented in a national magazine, especially American Art Collector!
---
« Market Day | Main | Distant River »
---
---
1 Response to Wind
richard mckiddy
via pashiapaintings.com58 months ago
I saw the information about ARTichokes in he Sunday paper. I have looked at your work and enjoyed it very much, especially the street scenes. I am an amateur artist with homes in KC and Tucson and paint with art groups two days a week when in tucson. I am looking for a group with which to paint (acrylics). Is it possible to drop by your gallery and show you some of the paintings I have done. Mainly to determine if you think I have the abilities to fit in with others who might be in the class.
* indicates a required field